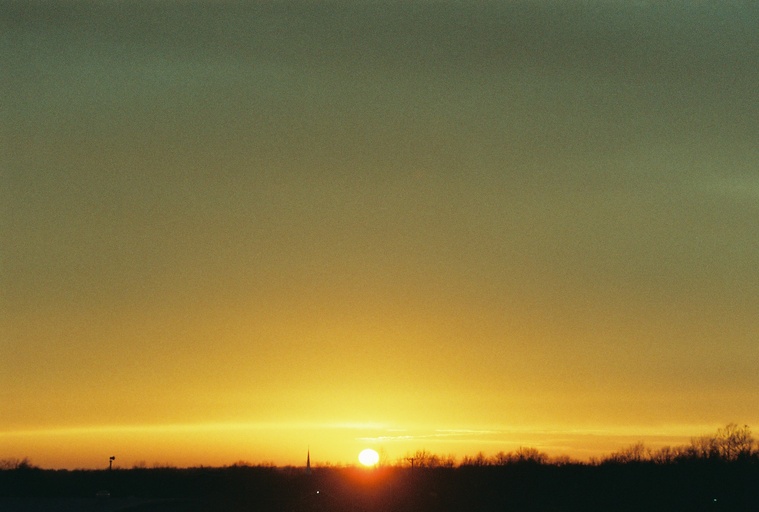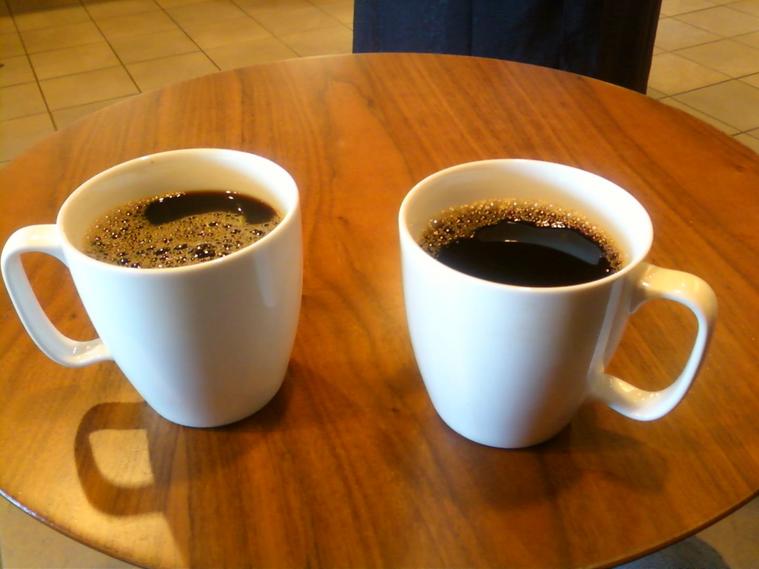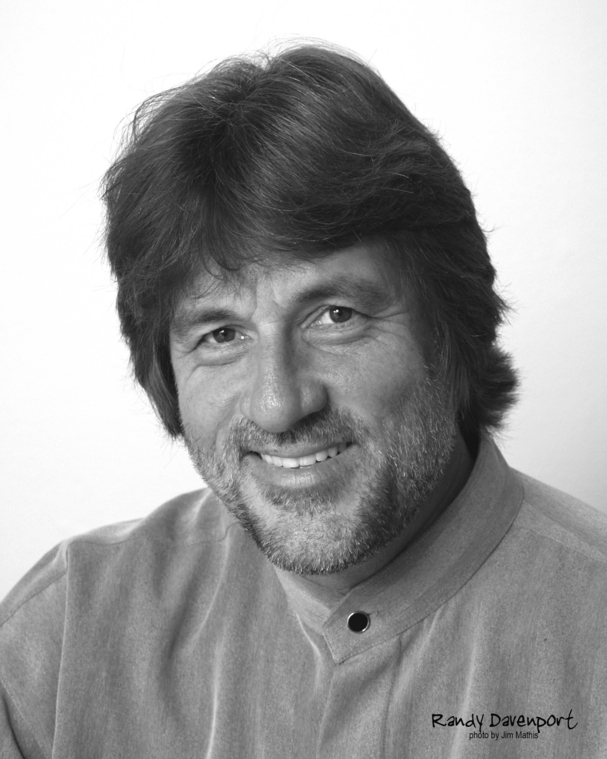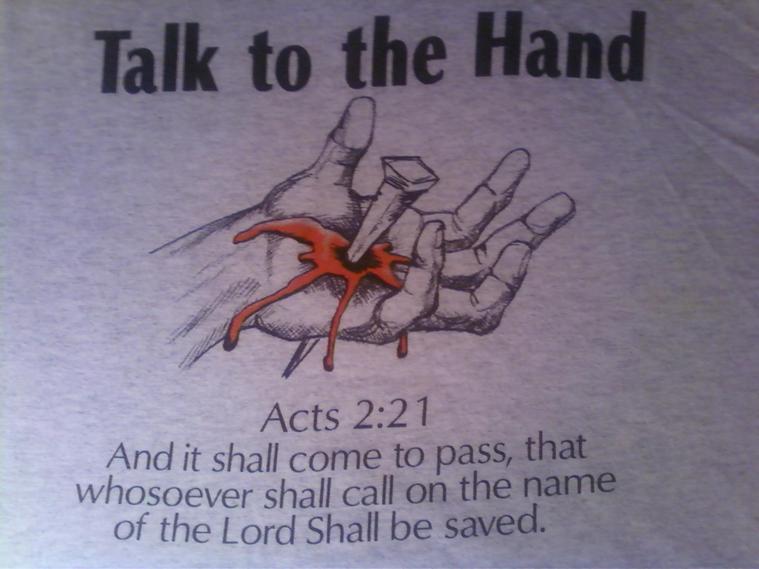 Hey if you think that Jesus does not love you, TALK TO THE HAND!
If you think that you are not good enough, TALK TO THE HAND!
If you think that you can't live a Christian life, join the crowd and TALK TO THE HAND!

GOD loves you so much, IT HURTS!

Just pray, Dear Father, I believe that you sent your son Jesus to live here on earth for ME. I believe that he died on the Cross for ME and that he rose again for ME. Lord Jesus forgive me of all my sins. I repent, I turn my back on my old life and I want to live for you from now on. I accept your gift of eternal life right now. Thank you Lord. I have called on the name of the LORD and I am SAVED!
"He Died for me that I might die to sin,
He Rose again that I might live for Him"
Randy Davenport​​
If each day of your life was a video, how much of it would you keep and be proud to share and how much of it would you want to delete?
Are you making "Good Memories" or "Bad Memories"?
Remember, Life is what you make it. You can never get back the time that you spend. Do not spend it making Bad Memories. You Rob other's and you Rob yourself.
Think about that.
Randy Davenport ​​​​
"You can let your problem disrupt your life or you can make your life disrupt your problem."


Randy Davenport​
What shall it profit a man if he should gain the whole world and loose his soul?​
Matthew 16:26
There is so much emphasis on the importance of preparing for any and all potential catastrophes that threaten our daily lives. We are bombard by advertisements for insurance and various services to help prevent Disasters, Ill Health, Financial Downturns, Accidents, Home Burglary, Identity Theft and many many other such things to the point of Paranoia. We are constantly reminded of the threat of loosing our Security, our Health and Wealth and our Way of Life but the Bible say's over 365 times, "FEAR NOT", enough for every day of the year. All this fear and worry and all for the "Temporary", the things that won't matter one hundred years from now much less one second after we die.
All the while doing everything under the sun to deal with the stress that all of this concern causes with
Medication, Therapy, Drugs, Alcohol and any other kind of Diversion to cope with it all and missing the BIG Picture, "The Eternal".
We are reminded in scripture, Colossians 3:1&2 to "Set your affection on things above, not on the things on the Earth".
But most people will not or cannot do this because they are only natural and not spiritual.
1 Corinthians 2:14 tells us, "But the natural man receiveth not the things of the Spirit of God: for they are foolishness unto him: neither can he know them, because they are spiritually discerned.
This is totally understandable when it comes to an unsaved, unregenerated man or women who has not been born again of the Spirit of God and has not yet been enlightend by the Holy Spirit.
But what about so many Christians who fall into this same trap of Fear and Concern?
To many of us like Peter when Jesus appeared walking on the water, called him to step out of the Boat and walk to him on the water by Faith, got his eye's off of Jesus, looked at the Storm around him and feeling the wind and seeing the waves became afraid and begun to sink.
He lost FOCUS, Focus on the one who called him out.
For the "Natural Man" in Sin, there is little he can do about all of these Fear's but for the "Born Again Believer", We have a Choice. We can decide to "Set our affection on things above".
We can either be like Mary or we can be like Martha.
The story is found in Luke 10:38 thru 42. Martha was so overly concerned about the natural cares and concerns of the task at handthat she overlooked the far reaching importants of the life giving wisdom that Mary was receiving from the very source of life, Jesus himself.
There is nothing wrong with dealing with the legitamate concearns of daily life, we are not called to be irresponsible. For your heavenly Father knoweth that you have need of all these things" Matthew 3:32.
II Timothy 1:7 say's For God has not given us the spirit of fear but of power and love and of a sound mind.
1John 4:18 say's There is no fear in love; but perfect love casteth out fear.
! John 4:8 tells us, He that loveth not knoweth not God; for God is Love.
Fall in love with Jesus, make him your primary focus and FEAR NOT. :)
Randy Davenport
May we never try to use God to accomplish our purposes but allow Him to use us to accomplish His.
Randy Davenport​
"Let's not ring our hands and ask what is this world coming to but raise our hands and praise the one who is coming to this world"
Randy Davenport

Many miles traveled, much time and money spent The pay off so well worth it in the place where we were sent. New names in Heaven written
Souls rescued from Hell.
Hearts and lives were mended
Proclaiming All is well.
The message of the Gospel was offered to them all
Many did receive it and responded to the call.
Yet there were the others who turned down the invitation and opted not to receive this wonderful Salvation.
But it is worth the effort
If they do or if they don't
For it's for whosoever will
Not whosoever won't
Randy Davenport​

Draw near to God


James 4:8 "Draw near to God and He will draw near to you"
Here James tells us plainly and clearly that if we want and desire to be close to God it is up to us to make the first move. God moves when we do.
You might say the word tells us that He will never leave us or forsake us and Lo I am with you always even unto the end of the world. Matthew 28:20 These are precious promises to us and yes on the one hand we know that God is "omnipresent" which is a big word that means that God is everywhere at the same time yet there is a difference between God being present and being in God's presents. It is clear in scripture that there is an intimacy that we can have with the Lord that sadly most people hardly ever experience. I have been in the same room with someone yet have felt all alone. You can be in someones presents and yet be far away from them at the very same time. To be intimate with someone, it requires more than just being physically near them. We can be in a crowd and yet be totally alone. There must be an intentional involvment with someone, we listen to them, focus upon them, there is an open channel of communication with them.
God desires to have a relationship with us just as any good parent would desire to have a close loving relationship with their child.
"And because ye are sons, God hath sent forth the spirit of His Son into our hearts, crying Abba Father. Gal. 4:6
It is totally natural for the regenerated man or woman to desire to have an intimate relationship with our heavenly Father.
Like any good relationship, we must cultivate it and not neglect it.
#1 "Have faith in God"
One very important thing to keep in mind and essential for a close relationship with God is Faith.
"Have faith in God". The Bible say's, "Without faith it is impossible to please God"
He wants us to trust Him.
Think of how it feels when someone you are close to reveals that he does not trust you, your motives or your judgment. It is very discouraging and hurtful and does no good for the relationship. You feel suspect and spurned.
Our lack of trust in God hurts him as well.
Knowing the price He paid for us on the Cross and the great lengths that He went to on our behalf to then have us doubt and not trust Him is a great insult to our loving Lord.
It is impossible to be close to someone if you do not trust them.
#2 Sin will prevent us from being close to God.
Remember the close intimate relationship that God had with Adam and Eve before they sinned. The bible tells us that God would walk with them in the cool of the day. He and Adam and Eve had such a wonderful intimate relationship but after they gave in to temptation and disobeyed, their relationship with God was broken and this broke God's heart. Gen. 3:-10 "And they heard the voice of the Lord God walking in the garden in the cool of the day: and Adam and his wife hid themselves from the presence of the Lord God amongst the trees of the garden. And the Lord God called unto Adam, and said unto him, Where art thou?"
And he said, I heard thy voice in the garden, and I was afraid, because I was naked; and I hid myself."
I believe that these words spoken by our Heavenly Father, "Where art thou?" are possibly the saddest words written in scripture. You can almost feel the sorrow in the heart of God as he comes into the garden to share sweet fellowship with his beloved creation only to find that they went into hiding because they were afraid.
"Behold the Lords hand is not shortened that it cannot save neither His ear heavy that it cannot hear, But your iniquities have separated between you and your God and your sins have hid His face from you" Isaiah 59:1-3
James 4:8 also tells us, Cleanse your hands, ye sinners: and purify your hearts, ye double minded"
Remember you cannot Run with the Devil and Walk with God.
The first sermon that Jesus ever preached was "Repent and Believe"
David said in Psalms 66:18
"If I regard iniquity in my heart, the Lord will not hear me".
James also instructs us, Chap. 4:6and7 "God resisteth the proud but giveth Grace unto the humble. Submit yourselves therefore to God: resist the devil, and he will flee from you."
(It is only when we Submit ourselves to God that we are able to Resist the devil.)
And as the writer of Hebrews tells us in Hebrews chapter 10:22
"Let us draw near with a true heart in full assurance of faith having our hearts sprinkled from an evil conscience, and our bodies washed with pure water."

I heard a story of this lady who got upset with the Lord. She read in the bible of when the Apostle John rested his head on the chest of Jesus and she began to think that Jesus had "Favorites" and showed partiality to him. But then the Lord said to her that "Everyone of my disciples could have gotten that close to me if they wanted to, only John wanted to."
We are ALL welcome to be close to Jesus if we want to.
BE BLESSED, Randy Davenport
My friend Gary S. Paxton had a huge collection of Clocks and pictures of Jesus. He said that these two things represented "Time" and "Timeless", The "Temporary" and the "Eternal". This concept inspired me to write this poem.
​
​

Time and Timeless




A Poem by Randy Davenport


All creation here below, Mountains, valley's, the rivers that flow Every creature on land and sea, Every flower, plant and tree
All mankind he meant to be, Every one, you and me
God eternal in whom all things consist With just a word, caused to exist. Almighty God the essence of Love
Creation exhibits His Glory above.
This God who is timeless made time for me
A Creature of time who was meant to be
His crowning work the praise of His Glory
Till Sin entered in and changed the Story
Sin entered the World and then entered me
I entered the Darkness and could no longer see
And for a time, no longer could hear
His gentle voice calling me near This mortal man with time running out
Lost in the darkness of fear and doubt
Searched for the living among the dead
Sought happiness but found sorrow instead
But the God who is timeless made time for me
Stepped into time from eternity
God the Son became sin on that day
And died on the cross to take it away.
Then on the third day He rose again
And conquered Death for every man
His wonderful words I do believe
His gift of Life I gladly receive.
The one who is Timeless now lives in me
This creature of time for Eternity
This God who is timeless made time for you
Stepped into time for His chosen few
Poured out His life and made a way
The time of salvation, today is the day.


"The Gospel is for whosoever will, not for whosoever won't"
Randy Davenport​
God will not give you "Specific instructions" until you begin to follow his "General instructions"
Randy Davenport​
"When the obvious sense makes the best sense, any other sense is nonsense"
Pastor George Westlake Jr.​
"There is a time to go to church and there is a time to Be the church"
Randy Davenort​